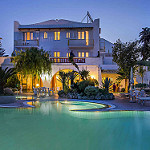 The following post is by MPFJ staff writer, Marie. You can read more of Marie's articles over at her own blog, Family Money Values. Enjoy! 
Home and Garden TV has a show called Island Hunters. This past week, they featured a couple (business owners and spouses celebrating a 15 year wedding anniversary) with a budget of $28,000 for a one week vacation. I watched in absolute disbelief as they surveyed 3 ultra luxurious private island retreats and chose the one that $6000 over their budget.
Could you (would you) spend as much for your one week vacation?
How do the ultra rich spend their vacation time and money?
While we are not part of the billionaire club, we have spent thousands of dollars on vacations. Our most expensive one was to Hawaii. We took (and paid all expenses for) one of our adult sons. But even staying in ocean side vacation homes and indulging every activity whim, we parted with $5000 a week for our 2 week trip. That amount put me in shock for quite awhile prior to committing to my years long dream of visiting the island states.
Billionaires sometimes build their own vacation dreams.
According to How to Vacation Like An Eccentric Billionaire some of the wealthiest folks build themselves a dream vacation home and then decide to make it available to others – for a hefty fee of course.
One of the most mentioned is Sir Richard Branson (Virgin Group). He built his private getaway on an entire island – Neckar Island and later opened it up to anyone who wants to spend From $80,000 per night for up to 34 guests ($2,353 per person per night) to book the entire island. At certain times of the year, you can get just a room instead of the entire island for around a mere $4000 a night.
A couple of other billionaires with similar retreats for rent include:
• Nick Troubetzkoy – Jade Mountain – which can be rented for the night for around $2200 to around $3000 but this might not be all inclusive.
• Thurston Twigg-Smith – Twin Farms – an all inclusive in Vermont – starting at $1500 a night for 2.
The ultra rich don't want mundane luxury travel.
While I was thrilled to sleep to the roar of the ocean waves and breakfast on the deck watching the sun rise over the sea, some aren't quite so satisfied with typical vacation experiences
According to Adventures in Affluence: How the Billionaire Vacations they seek out extraordinary adventures like diving with the sharks or having a world famous chef cook them dinner in the chef's home or being safely escorted to or through digs they would never consider visiting while at home. They might want to visit a dive bar or walk through a funky neighborhood with their guide.
Still other vacation pursuits of the affluent might include a hunt your own dinner, where they stay at a luxury cabin, get shooting lessons, go on a hunt and (assuming they actually catch something) have the chef prep it for dinner – hairy deer pelt to yummy venison steak.
Of course, there are still folks who enjoy activities at luxury all inclusive resorts – such as taking a snow sleigh ride or helicopter ride over beautiful scenery.
Who spends like this?
I believe there are three categories of travelers that might consider spending huge amounts on vacations.
People so rich that money is no object.
These folks are already used to a luxury lifestyle and don't usually want to down grade it for a vacation experience. Similar to what Donald Trump had to do to become the US President and downgrade his living style to camp out in the White House. He has already designated Mara-a-Lago in Florida as his winter white house.
People who can write off the cost as a business expense.
Our HGTV couple wanting to spend a week on a private island probably fits this profile. They own a pool design company together and were checking out the way the different resort pools were designed and executed, even while touring them.
On our Hawaii trip, my spouse met someone who fessed up to traveling on the company expense account quite a lot. Heck, I even expense out my trips to our lake condo when ever I can. If you pay US taxes, expensing trips to a business reduces your bottom line profit and hence the taxes you own on income for that business.
People who have saved up for a special occasion.
Our HGTVcouple may also fit this category, as they were celebrating their 15th wedding anniversary.
This category fits me best. My spouse and I worked hard for years to achieve our degree of financial freedom. A Hawaii trip has been one of my suppressed desires since the 1970's when my brother was stationed there in the Army and the rest of my family got to visit him there.
This category also may fit engaged couples seeking an alternative to an expensive church wedding and reception. Spending $5000 or $10,000 on a destination wedding/honey moon could end up being a whole lot cheaper than a traditional ceremony/reception.
Most of us, even the high net worth folks, don't spend nearly this much.
What do the high net worth folks spend?
In 2015, Business Insider reported on a BMO Private Bank study that claimed affluent Americans (these folks have over a million in investable assets) spend around $13,000 a year on leisure travel.
What do average North Americans spend?
Until recently, we vacationed only every 2nd or 3rd year. Each year we would take just one trip. On that trip we typically spent around $3000 total for the two of us – including all travel, meal, lodging, activity and souvenir expenses.
Value Penguin Value Penguin reports that the average cost of mainland trips is $144 a day. So for our typical 10 day trip that would total up to $1440.
That seems low to me, how about you?
How about you all? Do you vacation? How much do you usually spend?
Share your experiences by commenting below!
****Photo courtesy https://www.flickr.com/photos/hotelinternazionaleischia/33066776756/